Sponsor Pictures
Bacon takes 9 minutes off of your life...

Doctor's say a piece of bacon takes 9 minutes off your life... I should have died in 1732
Pictures from Other Sites
Random Pics
Flubber Rub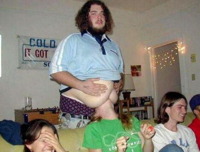 Super Hero Dads Doing It Right

What Were His Parents Thinking?!

Wait... What?

Get a Boyfriend, Human!

How to Lie to Your Mother 101

Sand Dragon

Farts are Ghosts

Such a Hairy Six Pack

Potato Chip Air Bags