Sponsor Pictures
Bird Poop Boy!

Boy getting pooped on by pigeon
Pictures from Other Sites
Random Pics
Oreos Say Not To Worry

Cat is Climbing the Blinds

Jack-O-Lantern Skull

Nun Snowball fight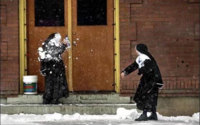 Do You Know What Time It Is?

Goat Conquerer

Silly Stupid Credit Application Requirements

Stupid Shouldn't Procreate

Well That's One Thing To Do With An Old Car

700 DEGREES??!!!