Sponsor Pictures
The Cops are Coming!

Dog giving a cat a leg up: Hurry up man, the cops are coming! Hold on! I'm almost there!
Pictures from Other Sites
Random Pics
Toilet Restaurant

You're as cool as these two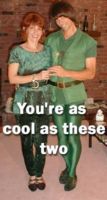 The Best Use for Ex-Wife's Wedding Dress

Always Better Than One Direction

Great House... Or not so much?

C3PO... Naughty Naughty Robot

Get Out Of The Way Shark

Facebook Pictures?

Potato Muscle

Become a REAL Hipster, Here's How...