Sponsor Pictures
Cat ears are puppy snacks

Puppy chewing on cat's ear: nomnomnom. Cat: Either you get him, or I will.
Pictures from Other Sites
Random Pics
Duck Refused Medical Treatment

Marco Polo Hates the Pool

Park Like a Blonde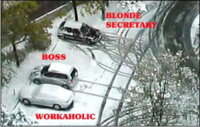 Wu Tang Clam, Ain Nothing to Shuck With

Gecko Slurp

Free Nobel Peace Prize

Nothing to see here, just walking my PIZZA!

Somethings Are Harder Than They Appear

No Coffee Yet!

Professor Darth Vader