Sponsor Pictures
Confidently Awesome Cat

Cat reading newspaper: I don't care what you think of me! Unless you think I'm awesome - in which case you're right! Carry on...
Pictures from Other Sites
Random Pics
Carrot All

Colors and Women vs. Men

Low Budget Man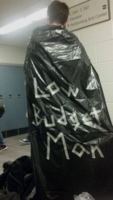 How, Exactly, Does One Day Shipping Work?

Wave Hair Nailed It!

Go Home Drunk Kitten

Elephant Hangover

It's a Pac Man Crosswalk

The Dog Picture You Wish You Could Unsee

Fired On Your Day Off