Sponsor Pictures
Confidently Awesome Cat

Cat reading newspaper: I don't care what you think of me! Unless you think I'm awesome - in which case you're right! Carry on...
Pictures from Other Sites
Random Pics
Scary Scary Gecko!

Conquering Duck

Car Boat

Apeeling Banana

I Thought You'd Become a Handbag!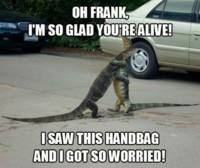 Touch the Food and DIE!!!

Who Wore It Better?

Angry Birds

Creepy Pokemon Woman

Pardon Me Officer while I finihs my beer