Sponsor Pictures
Confidently Awesome Cat

Cat reading newspaper: I don't care what you think of me! Unless you think I'm awesome - in which case you're right! Carry on...
Pictures from Other Sites
Random Pics
Watermelon Helmet Saves the Day

No Matter Funny Name You Try To Give It, It Still SUCKS!

Nun Snowball fight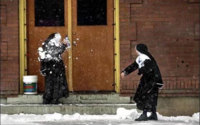 Cat's Pajamas Torture

Cloud's Gonna Knock the Sun Out!

Is It A Pig? Is It Sheep?

The Obvious Pigeon

Brother for Sale!!

Colors and Women vs. Men

Now Those Are Some Funky Pants!