Sponsor Pictures
A Puppy Isn't Bacon

Vegetarian billboard with pig and puppy on it: Why love one but eat the other. Answer: Because one isn't full of delicious bacon.
Pictures from Other Sites
Random Pics
Wholesale *sses

Somehow This Doesn't Say Apocalypse...

It's Cute Until You See *IT*

Smell My Nuts

Mr. Ballerina

When the Tooth Fairy Gets Drunk...

Tiny weird animal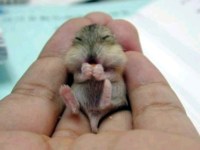 Just When You Thought Voldemort Couldn't Get Any Creepier

Rubber Ducky City

This Building Will Give You a Laugh