Sponsor Pictures
A Puppy Isn't Bacon

Vegetarian billboard with pig and puppy on it: Why love one but eat the other. Answer: Because one isn't full of delicious bacon.
Pictures from Other Sites
Random Pics
Bumps in the Road

The Love of Cheese Will Make You Stronger

The Latest In Men's Hair Styles

Imprint Cat

Library Vomit

I'm Just As Surprised As You Are

Your "Big John" isn't as long as you think.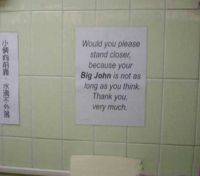 Fish Farts

Slurp!

You're a Goner